Post-marketing surveillance of vaccines - AIFA
edited by

Laura Biasi
University of Padua - Italy

published on

26/04/2017

updated on

09/03/2020
The Italian Medicines Agency (AIFA) has published the "2018 Vaccine Report. Postmarketing surveillance in Italy". This document describes in detail the suspected adverse reactions for each type of vaccine reported to the National Pharmacovigilance Network, both by health professionals and citizens.
The total number of reports entered in 2018 for the purposes of descriptive analysis is 7,267. Of these, 76% refer to suspected adverse reactions that occurred in 2018 for a total number of vaccine doses administered in excess of 17 million.
As explained in the methodological notes of the Report, each report is evaluated by:
• gravity, according to definitions established by the International Conference on Harmonisation and implemented by European and national legislation (European Directive 2001/83 / EC implemented by Legislative Decree 219/2006)
• outcome, internationally codified
• causality, according to the WHO Algorithm.
Regardless of age group, severity and causality, in 2018, 30.8 reports were made for every 100,000 doses administered for all vaccines (2018 reactions / doses administered).
The reports of severe vaccine-related reactions were 3.1 per 100,000 doses.
The most frequent adverse reactions (> 1000 events) are known and expected, and include fever (body temperature greater than or equal to 38°C), local reactions at the injection site and generalised skin reactions (including skin rashes) .
Less common (between 500 and 1000 events) were adverse reactions of agitation/irritability, hyperpyrexia (body temperature above 39.5°C), vomiting and urticaria.
More rarely (under 400 events overall), other known adverse reactions such as diarrhoea, vasovagal reactions, asthenia, pain, crying, headache and loss of appetite were observed. Other adverse reactions, such as febrile convulsions, fall below the value of 100 events and are among the rare but expected events. Some of those reported with very rare frequency (fewer than 20 events) are characteristic of specific vaccines.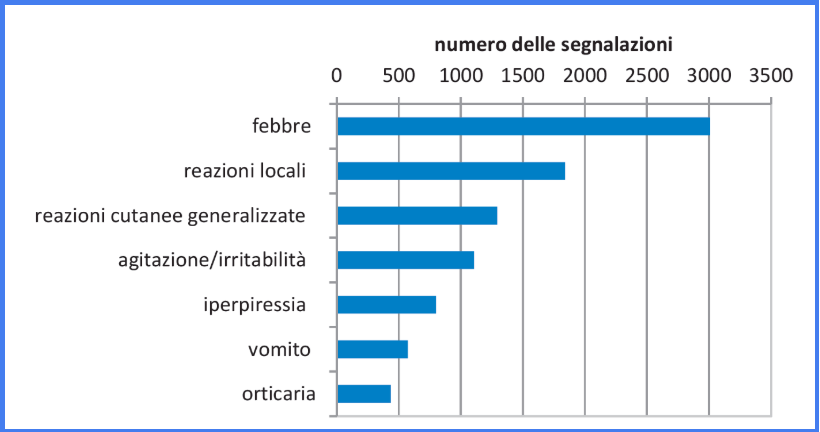 In 93% of the non-serious cases with a known outcome (4,955), the adverse reaction had already resolved or improved upon reporting. As for reports of serious events, 67% were transitory with complete resolution of the reported event, while 1.6% showed improvement at the time of reporting. The outcome was not reported in 8.3% of the insertions. A resolution with sequelae occurred in 3.7% of reports, in most cases related to a prolongation of transient symptoms or to diagnostic investigations still in progress. In 0.9% of the reports the result was death although none of these reports was causally correlated with the vaccination.
The reports are further classified by type of vaccine: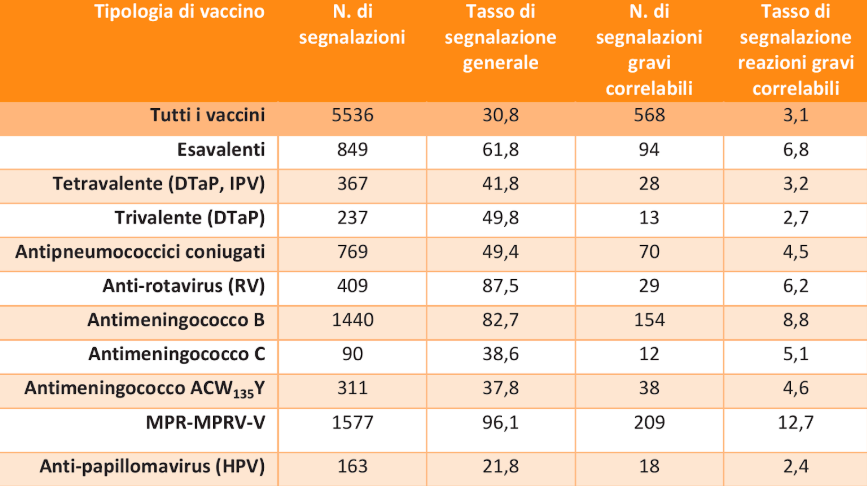 Assessment of the suspected adverse reactions observed in 2018 showed no events that could sway the balance of benefits and risks for the vaccines used.
Clinically serious and potentially correlated events rarely occurred, are not associated with a fatal outcome and confirm the benefit-risk profile of the vaccine, i.e. the risks associated with the diseases the vaccine prevents arise much less frequently.
The President of NITAG Italy (National Immunisation Technical Advisory Group), Vittorio Demicheli commented: "The surveillance of adverse events is an essential component of vaccination prevention programmes and a fundamental element for their success. Continuously and rigorously verifying that a health intervention does not produce unwanted or harmful effects on health is always necessary but it becomes an unavoidable commitment when, as in the case of vaccinations, the intervention is actively offered to entire healthy population groups.
Our country is equipped with a consolidated system of pharmacovigilance which, for many years now, has been dedicating particular attention and a special organisational structure precisely to monitoring adverse vaccination events. The information described in the following pages confirm the excellent benefit/risk profile of vaccinations. In the past year, despite the increase in coverage and doses administered (over 17 million) very few serious events were reported and no deaths were considered even potentially correlated with vaccination".

Sources / Bibliography