Vaccinating against Diphtheria
edited by

Elettra Pellegrino (*), Laura Indiani (*), Tommaso Tanini (*), Vieri Lastrucci (*), Antonio Ferro (**)
(*) Department of Health Sciences, Section of Hygiene, Preventive Medicine and Health, University of Florence-Italy.
(**) Prevention Department of APSS TN, Azienda Provinciale per i Servizi Sanitari - Provincia Autonoma di Trento-Italy.

published on

26/04/2017

updated on

25/11/2019
The epidemiological curves comparing pre- and post-vaccination periods show a sharp decrease in the number of cases over the years. It is clear that vaccinations have significantly changed the incidence of diseases for which immunisation exists, thus saving lives, reducing disease outcomes, reducing overall population suffering and improving quality of life.
The disease before and after the vaccination campaign in Italy
In Italy, where vaccination coverage exceeds 90%, no cases of diphtheria have been recorded since 1996. The graph below shows the trend of the disease incidence from 1925 to 2004.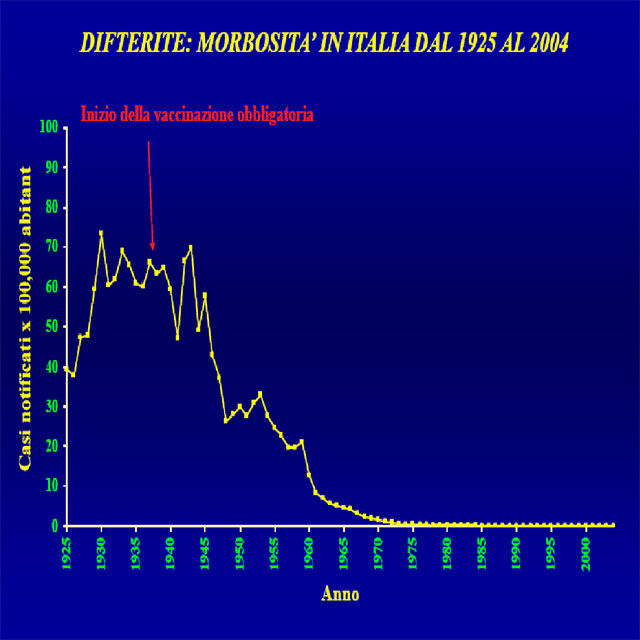 Diphtheria is a very contagious and potentially lethal infection that usually attacks the upper respiratory tract. In the most serious cases, it can affect the nervous system, the heart and the kidneys. Diphtheria is still endemic (i.e. present in the population) in many countries.
Countries with endemic diphtheria
Africa: Algeria, Angola, Egypt, Eritrea, Ethiopia, Guinea, Niger, Nigeria, Sudan, Zambia and other countries of sub-Saharan Africa;
America: Bolivia, Brazil, Colombia, Dominican Republic, Ecuador, Haiti, Paraguay;
Asia / South Pacific: Bangladesh, Bhutan, Myanmar, Cambodia, China, India, Indonesia, Laos, Malaysia, Mongolia, Nepal, Pakistan, Papua New Guinea, Philippines, Thailand, Vietnam;
Middle East: Afghanistan, Iran, Iraq, Saudi Arabia, Syria, Turkey, Yemen;
Europe: Albania, Armenia, Azerbaijan, Belarus, Estonia, Georgia, Kazakhstan, Kyrgyzstan, Latvia, Lithuania, Moldova, Russia, Tajikistan, Turkmenistan, Ukraine, Uzbekistan.